A wedding checklist is by far one of the most important tools to keep you sane and on track during wedding planning. We're here for you on this one!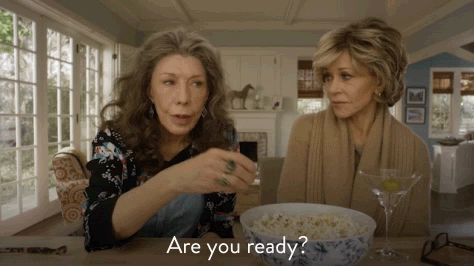 At a Glance Resources:
Timeline Time!
One Year Out (-ish)
Get excited! Check and check, right?
Diving into Planning:

Print your Wedding Checklist: Check it out!  Embrace your inner Monica and download this nifty checklist.

Head to Amazon and pick out supplies for a Wedding Planner: Binders, stickers, folders, streamers, planners, inserts, all those neon tabs – go nuts! If you're not a natural planner or particularly crafty, any old organizer will do, or you can enlist a friend to help 🙂

Budgeting: You can have an amazing wedding on any budget!
Managing Expectations: Have you always wanted a huge wedding? Think you might just elope? Different weddings come with different price tags, so start setting your budget expectations now.
Consider your resources: Are you paying out of pocket? Will your parents be contributing? Did your great Aunt Martha leave you a one-year-old investment specifically for this purpose??
Conceptualize three numbers: With all this information considered, set your three numbers – your absolute limit, goal number, and your high-five-we-saved-money number! Keep a copy of the budget in your binder. 
Pick a Season/Date: Do you want a summer wedding? Keep in mind summer weddings are super popular so the dates might be more competitive! Thinking of an outdoor shindig in, say, Minnesota? You might have to skip December through March!
Research and Book Year-Out Vendors: Some vendors are best booked early, like venues, coordinators, and wedding photographers. These types of services tend to book up quick, especially for particular dates and seasons.
Pick your wedding party! An easy excuse to get in touch with your best friends.
For Brides who are choosing to wear a wedding gown – pick a dress: You can extend this out to 6-8 months prior, but if you are going to need alterations over time, it is best to give the dress shop or seamstress plenty of time. This is especially true if you anticipate changes in your dress size before the wedding day.
Six Months Out
Make your guest list. This can be stressful – we know it! You'll have family expectations, budget restrictions, and the worry of hurt feelings. It's important to remember that your wedding is your day, and in the end, invite those who lift you up and who you want to celebrate with!
Book your other vendors: This will include entertainment, catering, florals, etc. and things like lighting, tents, and transportation if you need them. For a more exhaustive list:

Venue
Photography
Officiant
Videography
Florals
Rentals (linens, decor, tenting, etc.) 
Caterer
Bartender
Cake
DJ/Band
Ceremony Music
Photo Booth
Stationary
Wedding Planning/Coordination
Pet Attendant
Hair/Makeup
Wedding Gown/Outfit
Groom's Suit
Bridal Party Outfits
Lighting
Valet
Reception Transportation/Party Bus
For Grooms – Suit Up (if you're wearing one). Style, color, fit – it's time!
Pick your wedding party outfits: Decide on bridesmaids outfits, any accessories, and groomsmen suits/styles so that your wedding party has time to order them.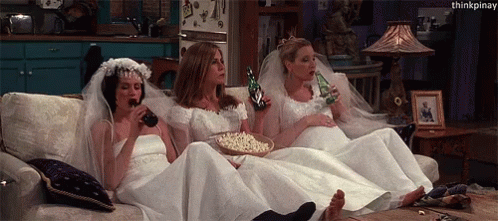 Pick an Officiant if you haven't already: You can work with them to plan out your Ceremony details, timing, whether you're writing your own vows, doing readings, and more!
Rehearsal Dinner: Consider your rehearsal dinner plans – fancy dinner? Book it! Cookout in the park? Reserve a picnic pavilion!
Get your wedding rings ordered!
Plan your honeymoon: If you're planning to jet-set for your honeymoon, make sure your plans are in order. Pick a spot, check out flights, book a super sweet AirBnB, verify that your passports are good to go – you'll thank yourself later.
Book your wedding night lodgings: It's an easy one to check off the list, and can be a fun change from the standard wedding planning to pick a hotel or AirBnB for your wedding night.
Three Months Out
Make your Day-Of Wedding Timeline: You know so much by now that it's the perfect time to write the day out!
Check in with your vendors: Send them your day-of timeline and discuss details, including delivery windows, contact people (this should never be the bride or the groom on the day-of), and plans.
Finalize wedding cake/dessert details. 
Create your Wedding Registry: You might be surprised at how much of a fun break it is to make your registry. You can go traditional and register with your favorite stores, set up a registry through Amazon, or even register fundraising for a honeymoon!
Send Wedding Invites: Signed, sealed, delivered 🙂
Pick your Personal Care Team:

Hair and Makeup: If you are getting this done, plan whether they'll come to you on-site at the venue, your home, or hotel, or whether you'll go to their salon. If you want, you can also schedule a test run to check your style/look and make any tweaks before the big day.
Professional Shave and Styling: A great and relaxing option – and it's always a good idea to do a test run to make sure you don't have any allergic reactions to product/etc.
Order Wedding Favors (if you're doing that)
Finalize Ceremony details with your Officiant: Vows, readings, ceremony timelines – your Officiant can help you tweak all these remaining details so that you're all set.

One Month Out
Get your Marriage License: A lot of states have particular laws regarding the timing of your marriage license – make sure you double check with your county/state, especially if you're getting married in a different state or doing a destination wedding.
Check in with all your vendors: Can we say this enough? Stay connected with those vendors 🙂 At one month out, you should be able to finalize most of the details of their service and timing.
Finalize all your Reception details: Talk with your DJ or MC, your photographer, the caterers and bartenders to see if they have any questions on your Reception timeline.
Log your RSVPs: Are your seven third cousins from Wichita coming? Hopefully you know by now 🙂
Finalize catering orders, including alcohol and menu.
Do you final dress/suit/outfit fitting! 
Check your budget and do final payments. 
Two Weeks Out
Provide final guest head count to caterer and venue: With your RSVPs (mostly) in, you can provide a final head count to your vendors.
Plan your vendor tips! Decide how much you want to tip your vendors and how to deliver it (check by mail? cash envelopes on the day-of?)
Delegate: Enlist the help of family and friends for things like cake pick-up, decorating the venue, dropping your alcohol orders off with the bar vendor, keeping you calm, etc.
Week-Of
Check and double-check: It doesn't hurt to pull a Santa and check it all twice – this can be especially helpful to do with a trusted friend or with a Day-Of Wedding Coordinator.
Give the wedding party their instructions: Where to show up and when!
Bachelor/Bachelorette Parties: Our only tip – plan a buffer day if you can, so that you or members of your wedding party can recover and re-hydrate 🙂
Pick up suit/dress/outfit – if you haven't already!
Designate your Day-Of Contact People (if you haven't already): As the bride/groom, you're going to be way too busy and having way too much fun to deal with details/delivers/little issues on the day of the wedding. So make sure you designate a contact person(s) for your vendors if anything comes up.
Make a Go-To Bag: Throw together a little bag of emergency essentials for the day and hand it over to a trusted member of the wedding party. Some things to include:

Hair pins
Safety pins
Band aids
OTC meds like Pepto-Bismol or Advil
Matched makeup for touch-ups
Tissues
Back up cufflinks/ties
A little sewing kit with extra buttons
Consider the little details: Don't forget to do things like make sure your accessories are all accounted for (jewelry, watches, cuff links), your new shoes are broken in, you have your vows written out for reference, you packed an overnight bag, etc.
The Big Day
Deep Breaths: Try a morning-of meditation, a walk, or hit the gym for a quick workout to keep those nerves in check.
Stay Hydrated and Fed: It's easy to forget to grab some food or drink water on the big day in the flurry of getting ready. Consider designating a wedding party member who will make sure you remember to snack and stay hydrated.
Roll with the Punches: If something goes wrong, relax! You've planned for this – and you've got all your family and friends there to help.
Get Hitched to the Love of Your Life 🙂 
The Wedding Checklist | Your Guide